Homeschool - Private School - Independent Study
Innovative, Interactive, Meaningful
Museum of the Bible Curriculum is designed for individual or independent study up to a large classroom setting. The curriculum provides an innovative way for parents/teachers to engage students with the Bible. Also geared for individual learners, the descriptive approach in the four-volume set encompasses major narratives from Genesis to Revelation. Lessons on the history of the Bible help students comprehend the context of the Bible and its fascinating past. Impact lessons introduce the Bible's considerable influence over the centuries. Using unique interactive technology, engaged students move beyond the page for a meaningful learning experience.
History, Narrative, Impact
History lessons examining historical and archaeological information fostering a better understanding of the Bible and its context.
Narrative lessons presenting significant concepts, events, and personalities of the Bible.
Impact lessons connecting the influence of the Bible on societies and cultures over time enhance student comprehension with "Why is this Interesting?" and "Why is this Important?"
Available on the iTunes Store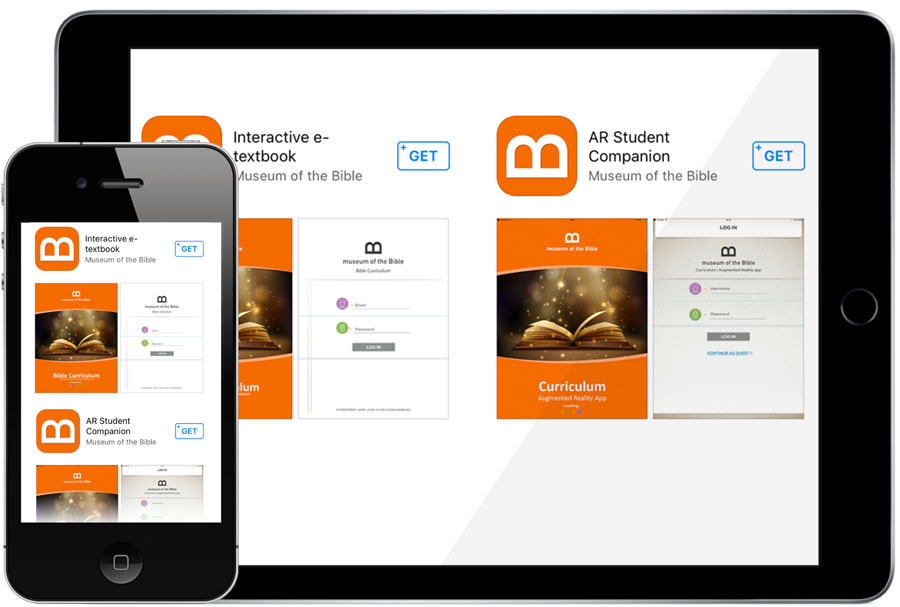 Available on the Google Play Store
Technology
Innovative content design engaging the smartphone generation. Hundreds of interactive media elements including virtual reality, animations, 3D models, interactive maps, gamified quizzes and more are all available
Exclusive digital content is accessible through the student AR (Augmented Reality) Student Companion App which is meant to work in conjunction with each textbook and is included with each Student Edition. This technology engages students with hundreds of media elements including virtual reality, 3D models, animations, interactive maps, gamified quizzes, and more—extending the learning experience beyond the textbook.
AR (AUGMENTED REALITY) STUDENT COMPANION APP
Augmented Reality (AR) is a live direct or indirect view of a physical, real-world environment where elements are augmented (or supplemented) by computer-generated sensory input such as sound, video, graphics or GPS data. Museum of the Bible's curriculum uses this cutting-edge technology to bring Bible education to life! See the Gutenberg Printing Press in action, flip through pages of an ancient text or interact with heroes of the Bible!
Instructions for Downloading and Utilizing
the AR Student Companion App
463
Interactive App Activities
108
Chapters across four volumes
Written for a 9th grade reading level

220 Handouts
56 3D Models

108 Chapter Tests and Answer Keys
107 Summary Quizzes

9 Bible Translations
99 artifact images from
the Museum's Collection

44 Interactive Maps
System Requirements
Android 4.4 and up to 8.0
IOS 10 and 11
Storage Requirements
Android AR App 88MB
IOS AR App 206MB
UMS Browser Support
Chrome on PC & Mac
Safari on Mac
Recommended Devices
iPad Mini 2,3 & 4
iPad Air 1 & 2
iPad 3
iPad New (32Gb)
iPad Pro
iPhone 5, 6, 6+, 7
Samsung Galaxy Tab S1, S2
Samsung Galaxy Note 4, 5
Samsung Galaxy S4, 5, 6
Google Nexus 5, 9, Pixel
Lenovo Yoga Tab3-10
LG V10